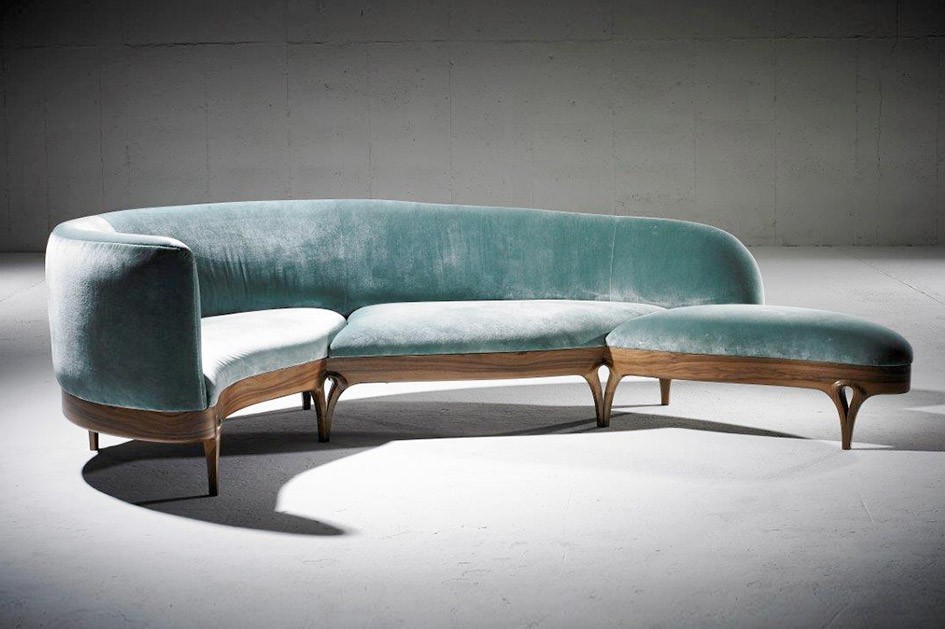 A dialogue between disciplines
The Dia Sofa came about through a dialogue between friends and colleagues Philippe Hetier, a French furniture maker based in Kilkenny, Ireland, Pierre Bourdel, an upholsterer with a passion for historic textiles, and Joseph Walsh, designer and maker.
Philippe had a particular request from a client to make a very special sofa, one that would be a departure from the norm but would adhere to his traditional making techniques. In a conversation with Joseph that started over dinner one evening in Kinsale, a small town famous for its restaurants and near Joseph Walsh's studio, and which continued late into the night, sketches quickly followed, and within a few weeks, a scale model had been created.
Subsequently, dialogue began about the upholstery, texture, material, subjects of detail which were of individual interest to Pierre Bourdel.
Walsh and Hetier were agreed: "the piece should be a curve around a centre point, a gathering place. It seems like the most natural thing and something we have created in our built environments throughout history. Diameter changes depending on the scale of the gathering, but from the great Greek and Roman Rotundas to the ancient Irish Ringforts and crannogs, the gathering is often framed in a diameter. The DIA Sofa implies a more intimate gathering."

The resulting piece has the signature of Joseph Walsh's sinuous, organic lines, the craftsmanship that Philippe is committed to in beautifully executed hardwood materials, and the unique and detailed upholstery of Pierre. Now the three have started a dialogue with weavers and specifically Mourne Textiles who were eventually selected to create a custom, handwoven textile for the Dia Sofa.
The DIA Sofa will be available in limited numbers – lead time is estimated at 6-9 months.